A real world portfolio is a targeted collection of work selected for different venues (an 8.5 x 11 case suits me just fine), but an online showcase has no such restriction. This section will hold the pieces I personally like and/or think there's an audience for...
This page also contains my Artist Statement and CV/Resume below the images.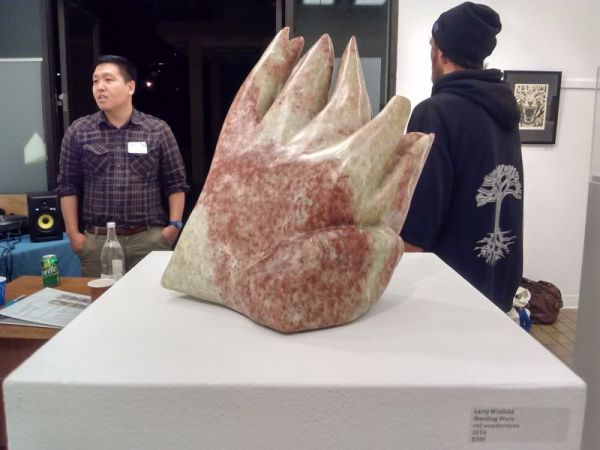 Standing Wave
Red Wonderstone
2014
Image from the "Hatch" exhibition. That's Francis Chung hanging out with James the gallery staffer.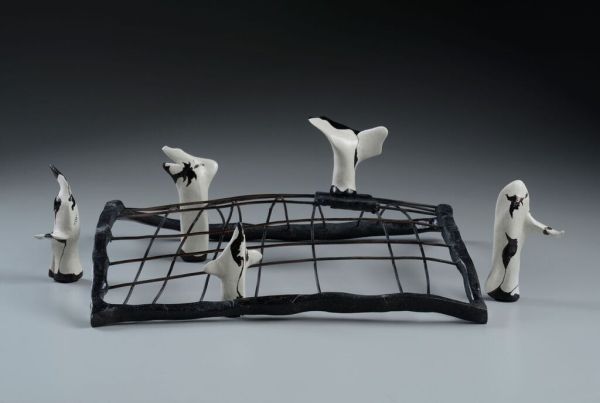 Not A Game
Air Dry Clay, Copper, Acrylic
2015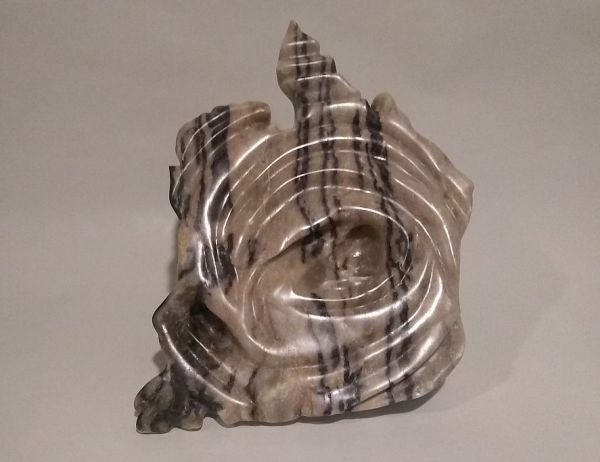 Little Big Sur
Alabaster
2021
A contemplation of Big Sur, a meditation of stone and water frozen in time...
Artist Statement and Resume
(also available as a pdf)

My creative path has taken many turns over the past 40 years; exploring forms and perceptions through three dimensions is only the latest twist. I use sculpture and lost wax casting to investigate the collective cultural archetypes contained within abstract forms and our relationships to those concepts and symbols. I recognized this correlation in earlier studies in drawing and illustration, which informs my efforts to bring two dimensional designs to full flower.

Throughout history, humans have employed the truly old school art of sculpture to convey, share and preserve their ideals, to reflect themselves, to reach beyond their own time to the future, shouting 'we were here!' The many ways we concentrate information down to symbols and objects (and conversly, conflate whole mythologies around an object) is fascinating.

My work with bronze and silver castings begin with ADC (Air Dry Clay), a thoroughly contemporary medium whose versatility ably captures my interpretations toward pushing the envelope. When I'm carving stone, however, I try to seek some measure of resonance with that deep well of creativity embodied by those ancient carvers and mounment builders from histories remembered and forgotten. My abstract design ideas reach back to my high school art major days. Through a blending of timeless methods and old school/new century perspective, I hope to plant my flag in the fertile ground of Afrofuturism as a 21st century artist.

My current body of work in stone delves into pure abstract expression, while my castings of sculptural jewelry and 'masks, totems and icons' explores the questions and stories sometimes evoked by abstract symbols in cultural consciousness, from many pasts and futures, imagined and inevitable, organic and industrial, human or alien.



Larry Winfield

415-539-6304
[email protected]
http://1223studios.com

Objective

To explore three dimensional abstract design and its relationships to human psychology and culture, and incorporate these discoveries into my general creative life as a multiplatform artist.

Education

2014-16 City College of San Francisco, San Francisco, CA (Sculpture, Metal Arts courses)
1980-82 Roosevelt University, Chicago, IL (Theater courses)
1974-76 University of Central Arkansas, Conway, AR (Theater, Speech, Radio Broadcasting courses)

Exhibitions

"Hatch" - City College Art Gallery, San Francisco, California - Fall 2015

Related Experience

Producer, Host of "Sundown Lounge" music, spoken word and politically progressive podcast, Los Angeles 2005-12, San Francisco 2012-present (currently in hiatus).

Producer, Host of "The Rent Party" music and poetry show as "DJ Merlot," Guerilla Love Radio, Chicago, Il., 1999-2001.

Chicago Saloon Poet, 1990-2002: Open Mic and Featured reader at Chicago venues and events; Venue host at Gallery Cabaret, Underground Wonderbar and Yo Mamma's; Produced poetry videos; Performed with Brass Orchid jazz poetry band.

Contributing Poet and Illustrator, Nit & Wit Magazine, Chicago, Il., 1981-82.

Touring Company Member, "Robin Hood"/"Treasure Island", Earth Theater, Chicago, Il., 1978-79.

Assistant Editor, Winged Zebra Literary Anthology, Pine Bluff High School, Pine Bluff, Ark., Spring 1974.

Bibliography

Blogs, Website Publications

Lucy Silag, "Member Spotlight: Meet Writer Larry Winfield," Book Country Blog, January 6, 2014. http://blog.bookcountry.com/larry-winfield/.

Simon Toon, "Sundown Lounge Review," Podcast User Magazine, Issue 6, July 2006.

Cloudy Day Art (Podcast), "Guest Poet Larry Winfield," October 3, 2005. http://www.cloudydayart.com/2005/10/03/cloudy-day-art-23-guest-poet-larry-winfield/.

CJ Laity, "MAGNIFICENT SEVEN: LARRY WINFIELD (Erzulie Freda CD Review)," ChicagoPoetry.com, April 26, 2005. http://chicagopoetry.com/modules.php?op=modload&name=News&file=article&sid=452&mode=thread&order=0&thold=0.

Radio/Television

Danna Kiel, Interview, BlogTalk Radio, August 7, 2010. http://www.blogtalkradio.com/djdannak/2010/08/07/change-is-now-we-are-a-movement-wauthor-larry-winfield.

Publications Under Imprint 12.23 Press

Banjo Strings (SF/Neo-Southern Gothic Novel), 2007, 2013.

Erzulie Freda (Poetry/Music CD), 2005.

Wicker Park Sonata, Poetry, 2002, 2012.

Erzulie, Poetry, 1999, 2012.

Rosedust, Poetry, 1999, 2012.

City Table Review (Quarterly Online/Print Poetry Chapbook Review) 2000-2002.

Liquid Glyph (Monthly Poetry and Politics Webzine) 1994-2002.

Appointments

Contest Judge, Freda Stein Fenster Memorial Poetry Award, Chicagopoetry.com, 2007.

Travel

Traveled to Berlin, Frankfurt and Erfurt, Germany and Paris, France with "The Urban Metaphors Tour," Jan. 1992.