Hatch
City College Art Gallery
City College of San Francisco
50 Phelan Avenue, Rm. v119
December 7 - 16, 2015
Reception December 9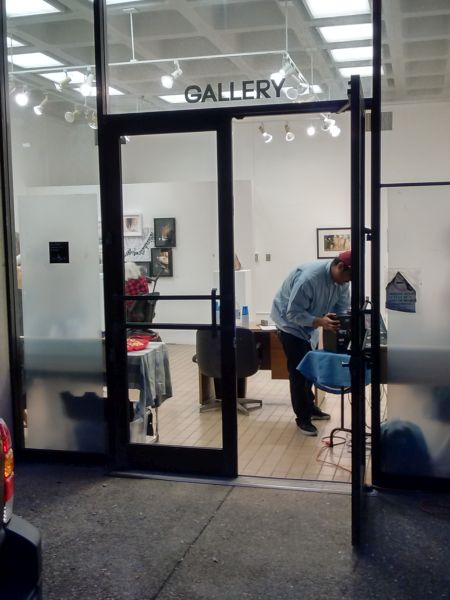 I arrived early to help with any set up... That's Raphael Banuelos, one of the nine artists in the show - who's passion comes from his printmaking and music - setting up the sound. His vinyl selections included some Grover, some Miles, some JB, some Funkadelic... Nice...
The City College Art Gallery is an intimate space, but all the work is balanced and complimentary, I think...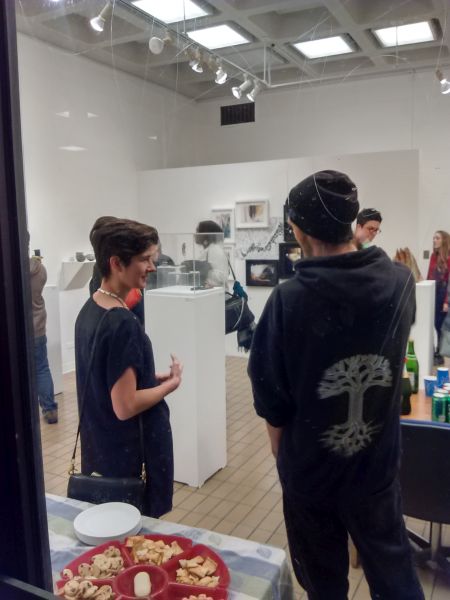 The view from the courtyard outside. The cat with the tree hoodie is James, a gallery staff member who keeps our babies safe. He's talking with Chloë Kiser, a cool ceramics and metal artist who runs an art-friendly space in the Mission. "...I make functional objects and adornments in metal and in clay that help shape the reality I want to live in."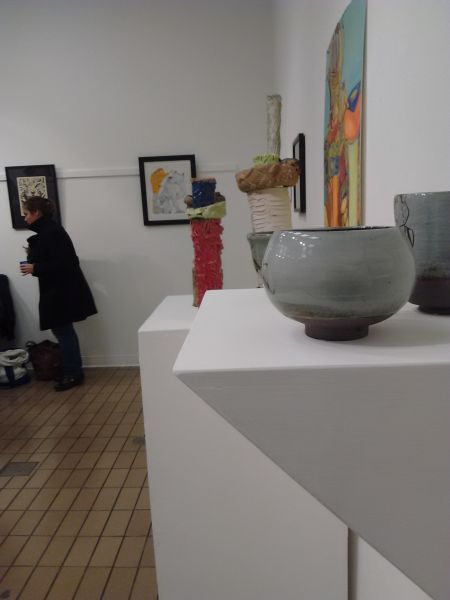 The bowls are some of Chloë's work. The ceramic sculptural assemblies are by Leslie Plato Smith, who "explore[s] transformations across time and space in our environment, including their biological, social, political, economic aspects..."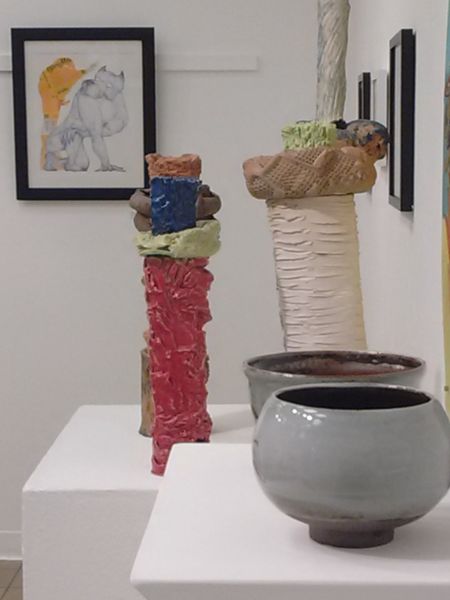 A closer view. The work hanging on the wall is by Jabal Miki, who's developing a style reminiscent of Japanese cartoons and idealized, religious figures....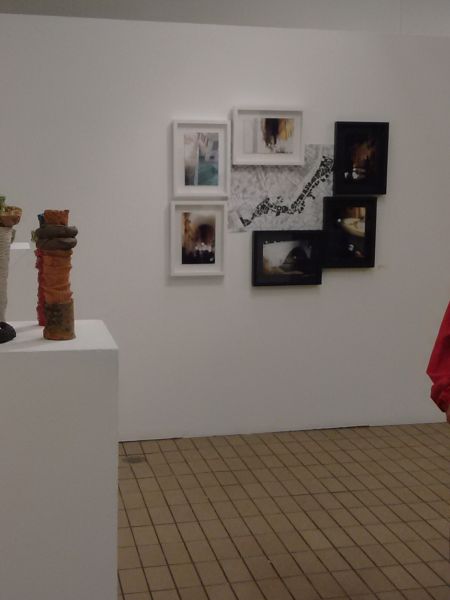 This installation is by Jef Biesinger: "Creative Practice is creating spatial atmospheres, capturing the sensorial qualities that a space emits. This experiential place deconstructs: light (amplify), space (distort), and time (compress)." Yeah, I know, it's too far back...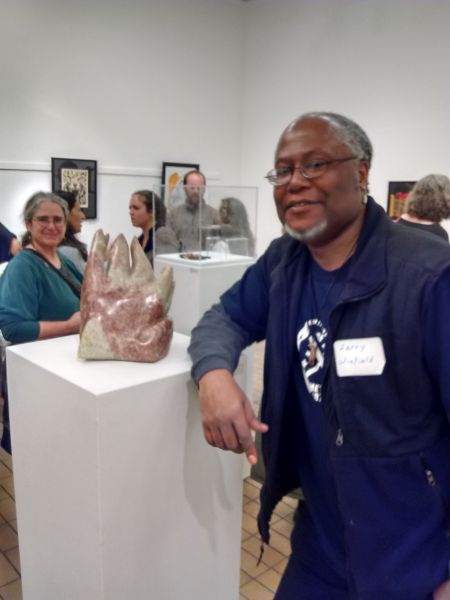 Somebody took the phone camera to take this pic of me with my work. The t-shirt is black - bad camera...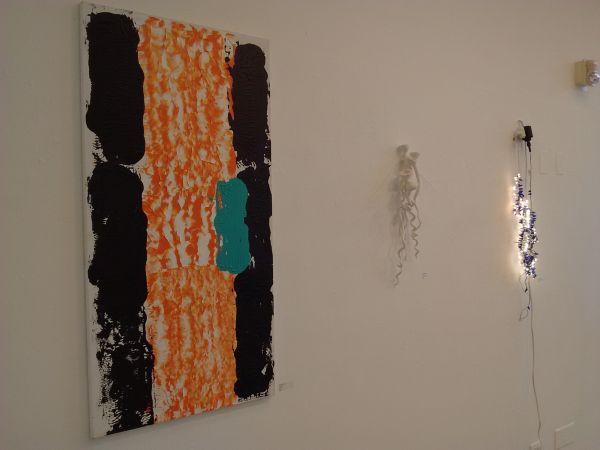 These three works come from Francis Chung, a sculptor who also teaches high school in the city. He makes abstractions based upon the emotions of loneliness, heartache, redemption, and forgiveness....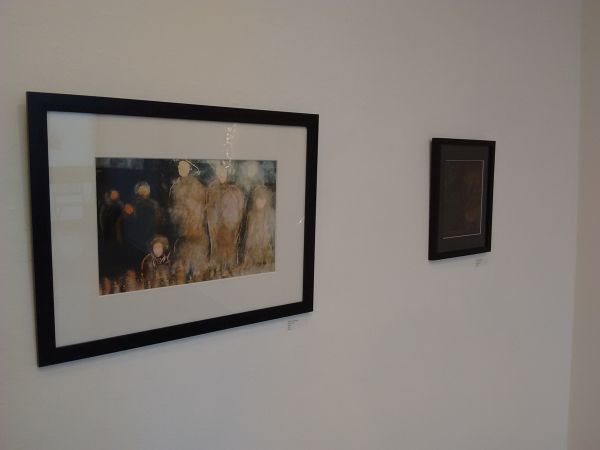 These two are by D. Weinberg. Much of her work explores what various kinds of isolation feel like, hauntedness although the cause or source isn't clear. However, she doesn't dwell in darkness, always working at creating community and emotional connections with her work....
Francis Chung's smaller works. I pivoted left to catch D.'s smaller piece but the reflected glare was killing...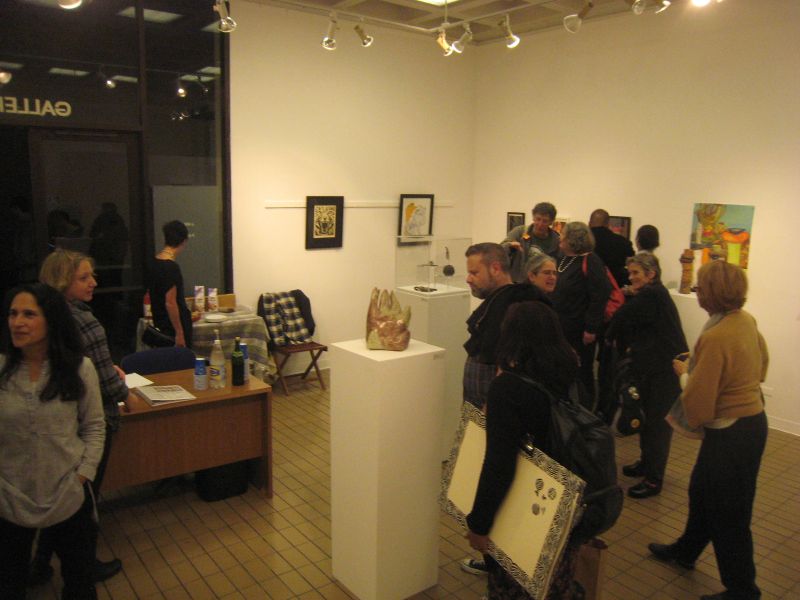 These last few were taken either by our teacher Nancy or James using the gallery camera. The intimate space is fine for relaxed conversation and contemplation...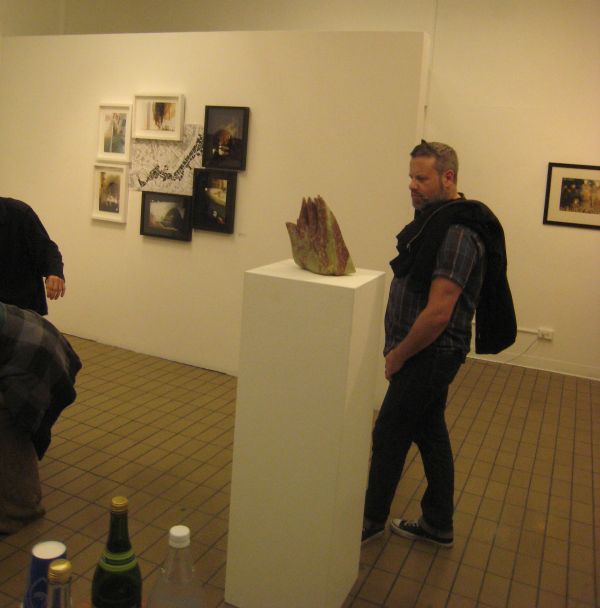 I was told by James that lots of people coming through liked the sculpture, most wanting to feel the stone...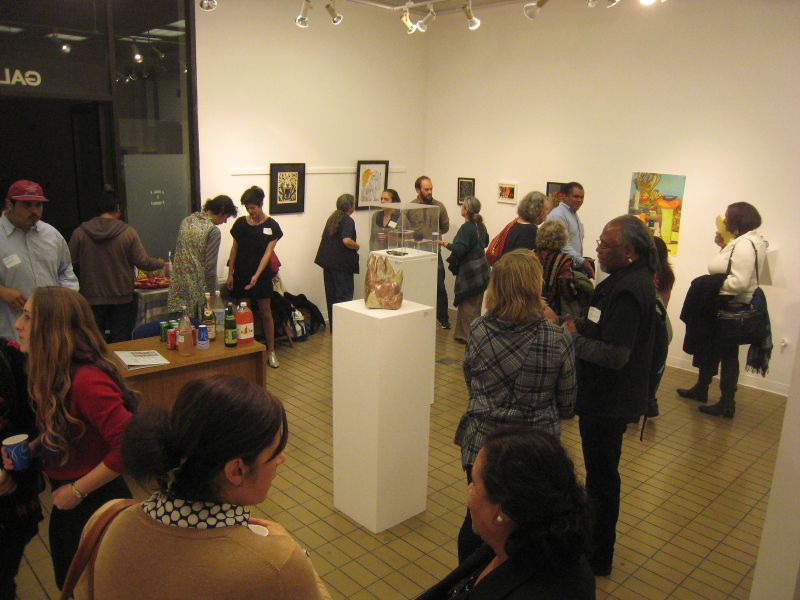 The reception was a smooth success, we all had a ball and it was nice feeling like an artist with a capital 'A' again...