(08/26/16)
Sundown Lounge Pac Rim Beat!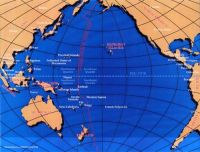 Sundown Lounge No. 384 - August 26, 2016. Duration: 52:00



"Pacific Rim Hopscotch"

Running Aside - Keritsu × Awake From a Fall
Geeknotes:
TallGrass Guild's Reading on MAGIC
Being Pacific - Associated Students Art Gallery Call for Artwork
Open Mic Stage:
Glory - The Breathing
Karinai ni Buroom - elijaL
Diamonds - The Neo-Kalashnikovs
Lost - MasterClass
Chainsaw - Codeine Like Candy
Valley - Phonic Submission
逃避着活着 Escape Alive - 六道母 Luktomo
Map Room:
New Earth-Like Exoplanet Could Be Discovery of the Century
Venue Verite:
Fire on Angel Island - Karen An-hwei Lee
Academy of the Pacific Rim Public Charter School Slam Poetry at the Institute of Contemporary Art in Boston
Music Bed:
Chapter 2 - Pece
Exodus - Brioskj






(08/05/16)

Sundown Lounge Brexit Beat!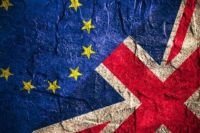 A rock-heavy selection of new indie bands in and around the UK...Britain...England?
Sundown Lounge No. 383 - August 05, 2016. Duration: 44:06



"Brexit Beat"

Brexit voters who say they now want to STAY in the EU after referendum results.
Where Did I Go? - Jorja Smith
Geeknotes:
8/6: Richmond Our Power Fest 2016
8/15: Kristin LaTour returns to Waiting 4 the Bus
Open Mic Stage:
It's Your Love - Hannah Lou Clark
Only Son - Loa Loa
Bank of England throws cash at Brexit
Money - Cupids
Buzzards Leave the Bones - Big Spring
EU Referendum aftermath, Tourism increase - ITV News
Where I End And You Begin - she drew the gun
Avalanche - Bad Sounds
Map Room:
Hidden 'anti-crime' mics are proliferating on US public transit
A Health-Monitoring Sticker Powered by Your Cell Phone
Venue Verite:
Brexit Poem by Austrian MEP Eugen Freund
Anonymous Junk Talk Poet slams Brexit and protest for second referendum
Music Bed:
Fragaria Vesca - Zainetica Shanxi - Lab023






(07/02/16)

The new Sundown Lounge episode is up!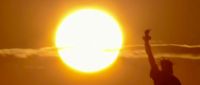 "Eastside Sun" - my episodes ending in '2' feature indie music from the east coast, and this is an eclectic mix...
Sundown Lounge No. 382 - July 01, 2016. Duration: 1:01:25



"Eastside Sun"

Base of The Spine "B.O.T.S. - ULMUXIC
Geeknotes:
7/09 - 7/10: BLACK AGE XVIIII in Chicago
New Record Label Sound of Change for Buskers Only
Wicked Ink Anthology Call for Submissions
Open Mic Stage:
I Am a Spiral - eskimeaux
Is That Too Much - Kinnecom
Lush Life - Blu-Tet
War - Hypnotic Brass Ensemble
Wandering Mindless - Larry Carlson
Come No Closer - worldsurfer54
Redshift - Deaf Scene
Romie Knows - Just Walden
Map Room:
Woman from Texas is the first to undergo Optogenetic Therapy
Scientists performed the first trials of a Universal Cancer Vaccine
Venue Verite:
A Taste of the 6/30 Book Party @ City Lights for "Of Poetry & Protest: From Emmett Till to Trayvon Martin." Readings by Michael Warr (Ed.), D Scott Miller, devorah majors and Al Young.
Music Bed:
'Eyes Wide Open (Faex Optim Mercury Drone Mix)' - 4T Thieves, 'Deep Sea Lights' - Tad Rees






(06/17/16)

The new Sundown Lounge episode is up!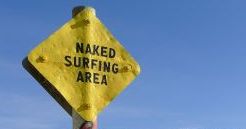 "Summer Surf Chill" has a few rock and pop numbers, some interesting items on stem cell advancements, and two very different kinds of surf poetry...
Sundown Lounge No. 381 - June 17, 2016. Duration: 0:42:24



"Summer Surf Chill"

Fela - Nvdes
Geeknotes:
6/20, 7-9PM CDT: W4tB Solstice 3 for All @ Uncharted Books
6/30, 7PM PDT: Of Poetry & Protest: From Emmett Till to Trayvon Martin Book Party @ City Lights Booksellers
Open Mic Stage:
Boys That Sing - Viola Beach
You Disappear - La Luz
Low Tide Love - Tipling Rock
Souvenirs - Swimming Tapes
DAZE OF YOUTH - Barbarian
Map Room:
Can a dead brain be brought to life?
Stroke Symptoms Reversed in Medical Study
These Rocks Could Help Reverse Climate Change
Venue Verite:
Judy Oberlander reads 2 Ventura surfing poems
Rudy Francisco performing 'Volcano Surfing'
Music Bed:
'Sunset' 'Light Rain' 'Aluminum' - Curious Inversions, from the album 'Stone on Stone'






(05/13/16)

This transition was rough; two sculptors passed around the CSS, one before and one right after...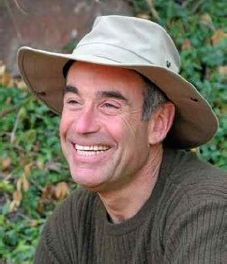 Charlie Klieman, a long time member of the sculpture community and one of the workshop presenters was killed in a horrific traffic accident in New Jersey on March 15th.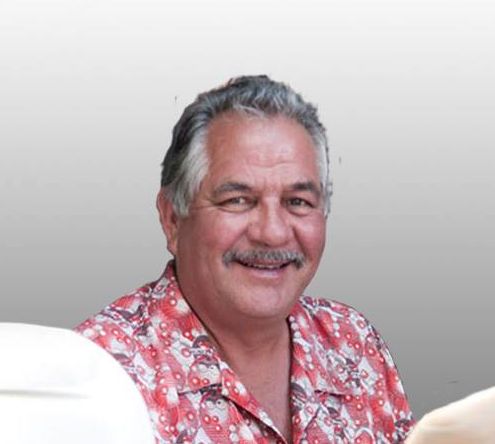 Rollie Granbois, a master carver of abstract works from small to monumental pieces, who for a time lived and worked with the Shona stone sculptors in Zimbabwe, died in the week right after the CSS while traveling to his home in New Mexico. He was a really cool guy and someone I'd have never met formally outside the Symposium, who welcomed my promise to pick his brain on all things abstract. With so many artists and icons passing this year, processing these transitions has been particularly hard...
(04/22/16)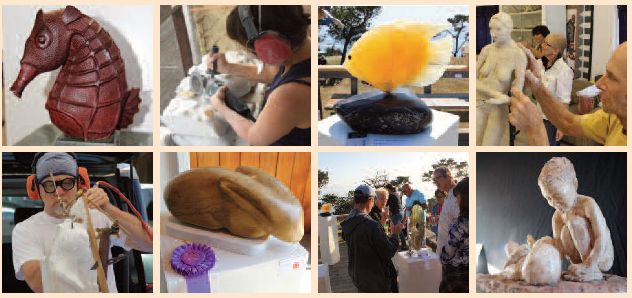 Ok, the California Sculpture Symposium is happening all next week, a chance to immerse yourself in an artists environment, work and share info. If you checked my Facebook page, the latest video of the event shows its location, next to the ocean on California's Central Coast.
I'm taking a 10-15 lb. alabaster stone I can possibly finish by the big show on Sat., so I'll have time to attend one or two workshops.
Today and tomorrow is final prep for the road trip: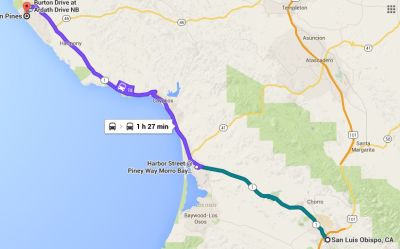 After arriving in San Luis Obispo, it's two bus rides up Hwy 1 with great views of the ocean. I crossed this Hwy 3 or 4 times back in my hitchhiking adventure in '77, but that's another story...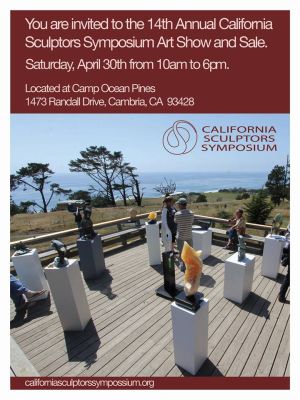 The big event that will cap off the CSS is the Art Show where the public visits the camp, hobnobs with the artists and often buys artwork. The 'public' includes well-heeled patrons from LA and SF, so this gives me a small introductory taste to the general art scene in the state and the sculpture scene in particular, and, not being a school gallery, lets me test-calibrate the pricing a bit (whether or not my 'ridiculous price' for a piece I'm not ready to sell is too high or, more likely, too low)...

Irregular updates will be coming all week; stay tuned..

(04/15/16)

Here's the Spring Break Bike Mural pics. Click through for the full size pics...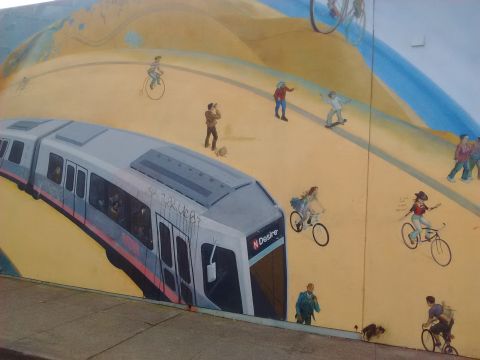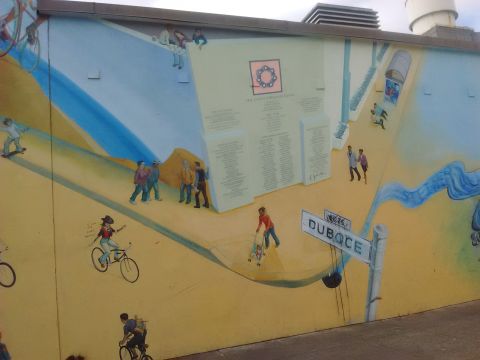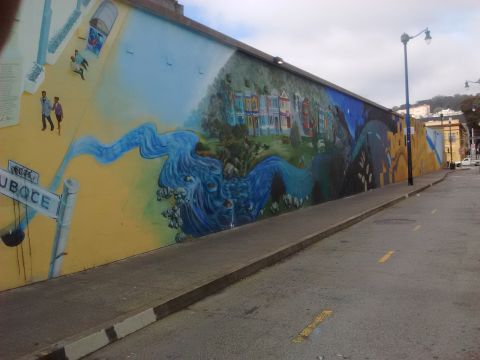 Last weekend I carried out a D-Day on my 19 1/2 year old dreadlocks. I mentioned it in facebook, but I'm mainly noticing the difference in the reactions of these tight-ass next-gen yuppie (rather, lack of reaction). I left my freak flag in San Francisco, ha ha...



(03/27/16)

Now that Midterm week wrapped, I could do more than scrape the political stickers off the frame and wipe the dusty bike down...

After cleaning, degreasing and lubing, the next item is security - in arguably the bike theft capital of the west coast. So I registered the bike in a nat'l database for a neat sticker (that comes in a month or so), and aside from only riding for exercise and not parking anywhere (for now), the answer is locks - many locks...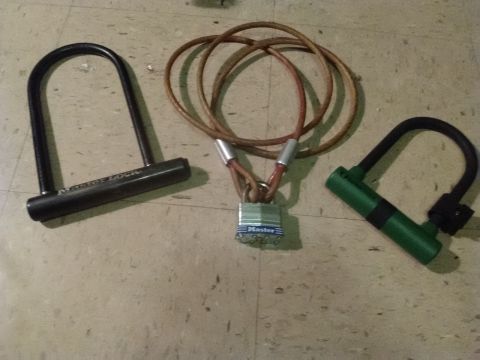 The current lock medley... That 10-year-old U-lock I'm gonna replace, but no matter how much you spend on locks, all they do is discourage the casual thief and slow down a professional...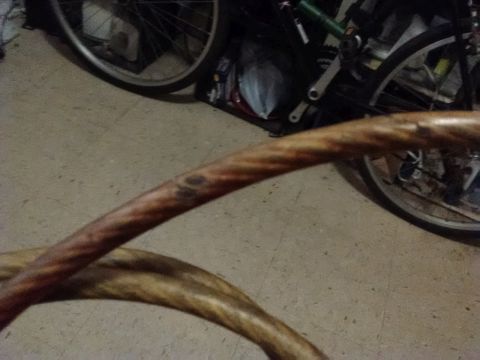 I trust the cable over the old U-lock because it's kicked at least two mofos' asses who were after my horses in the past. The bike has those cute quick-release levers on both wheels and seat post - no good in this city; in Chicago I could get away with hose clamps to foil the casual bike thief, but here two good locks are the minimum, and locking skewers are the rather pricy upgrades I'm looking at...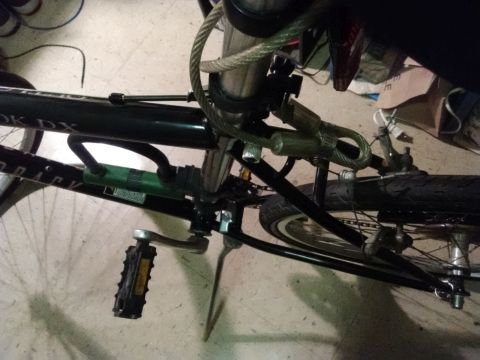 For the seat post I decided to go for overkill with a steel cable the big cable passes through. Even after getting the locking skewers, I'm going with three locks...
So anyway, after adding a kickstand to the bike last night, I packed my locks, emergency tools and patch kit in a backpack this morning and went on a second shakeout ride to work out the kinks. I rode 'The Wiggle' route to the beginning of Golden Gate Park, following the steady stream of fellow bikers and getting attuned to the street traffic...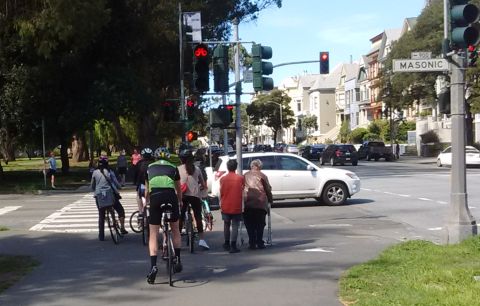 Once I got to the park, the mid-morning bike flow was a bit heavy - and would probably be much worse in the afternoon. The panhandle's midpoint crosses Masonic St. with it's neat bike traffic light...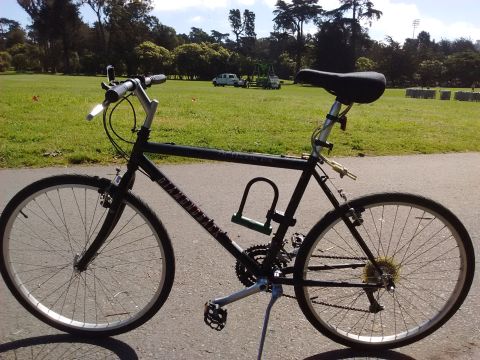 Once in the main park I rode over to the clearing where the Janis trees and Hippie Hill were sparkling in the sun. My legs were a little rubbery after dismounting, but the workout felt good.
Ok,that's one exercise route - Hippie Hill. It's short, but there's still an incline going to the panhandle (which made the return ride sweet!)
(03/13/16)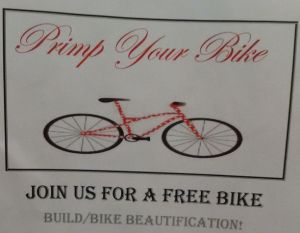 Since before my last check-up, my aim of reversing my type 2 by improving my stats (like lowering my BMI by one more point) has pushed the need for my eventual next bike to the present. I started looking into local sources for cheap parts to do a summer build when, two weeks ago, I discovered a program the SF Bike Coalition is running.
They reclaim abandoned and unclaimed bikes from the cops, MTA and BART, previously just thrown away. The SFBC refurbishes them, then holds monthly 'Bike Builds' (or Convivios) where the bikes are donated to qualified city residents through community orgs. Because I live in this swanky SRO, I was pre-qualified, but to reserve a limited slot I called up the day I saw the flyer.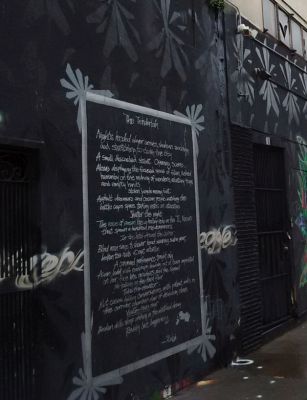 So, Sat. morning I neglected my ADC project and rode the bus up to 5th Street and crossed Market St. into the TL - The Tenderloin - and noticed the slow but sure decay of the district's ground zero in the lack of trash, smells, stains, and sleeping bodies on a weekend morning - a big change from over three years ago. After a short wait, the community org. folks (Central City SRO Cooperative) opened up and eventually a dozen of us signed in and got checked off, then the SFBC folks had us sign a waiver affirming that yes, we each checked out the bikes we claimed before rolling away on them.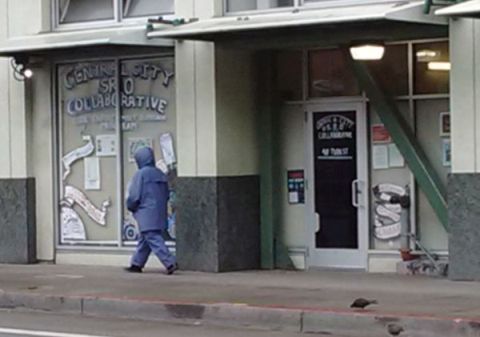 Instead of sweat equity, we sat through a short SFBC class on selecting the right bike, then watched their 'SF rules of the road' video I found on YouTube, with additional info on local biking hazards (like getting doored for spite; bike culture here has its enemies.) We got a handy pocket map, new helmets, front and back lights (mandatory for night riding, and any damn foggy day for me) and a mini u-lock. I was disappointed about not getting my hands dirty working on a bike, while some of the others were rather impatient about getting their goodies 'and make it snappy' about what's essentially a handout... Anyway, volunteering to do bike work is some giving back I can and will do when I get better established.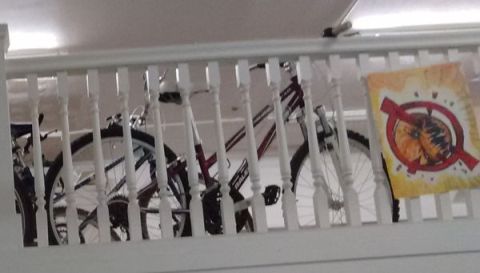 The next couple hours was spent noshing on chicken and salami club sandwiches, then picking out a bike from the twenty or so adult models available. No ten speeds, but a nice mix of mountain and commuter bikes, a few unisex as well. I spotted a Trek no one else was eyeing, but it didn't look that great. A couple Schwinns, couple Raleighs, but in the back I saw a Diamondback with MTB build and road tires. A commuter with a comfort seat. I gave it my short arm inspection - checked the wheels, tires, brakes, alignment, chain, gears (21 speeds), steering, cables, rust, etc. It looked more collecting dust than anything else, but the gears ran through smooth and the frame was solid. Cool.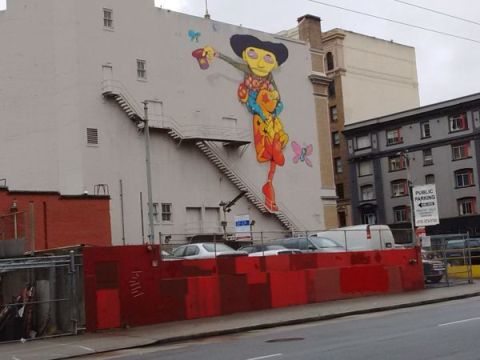 Before leaving, I had a chat with the SFBC folks and learned a bit more about the program and the org., then I rolled (well, walked) out and down Turk past the mural to the corner, and in the light sprinkling gray afternoon I rode back to the crib in about twenty minutes, even accounting for the St. Patrick's parade crowd I had to wade through. The rain held off long enough to get a good feel for the handling and the ride, which was very smooth. Braking and shifting very good. The feel of the bike was effortless. Nice.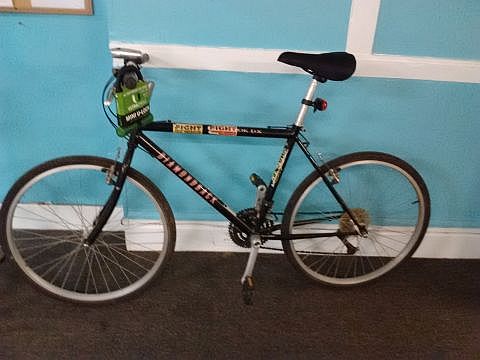 So now I have a bike, and I have to ignore it now to get back to my studio homework. It's back to hard downpour, and I'm not doing any riding until a proper cleanup and getting some hose clamps for the quick release wheel hubs and the seat post. And the first personal rule for SF biking is to always wear a helmet...
(03/03/16)
Ok, I'm gonna be honest and admit that I miss doing the full show, but until the music situation changes, it's just a page of item links for the moment. As soon as I curate enough indie music for at least five of these envisioned short shows, we'll have some audio...
So, here's a couple Map Room items...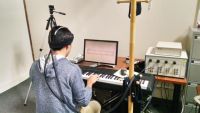 BACh: Brain-reading tool that can teach you a new skill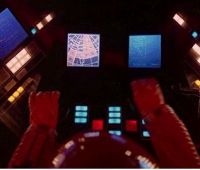 10 Old Movies with Special Effects That Have Actually Aged Well and Still Look Good