(01/17/22)
When I entered the Pre-Launch stage of my planned walkabout, I considered the crucial rule of camping, 'leave no trace' and how it's doubly critical for me because I'm bound to use some stealth campsites more than once going up and down the coast and I really don't want to burn any bridges in that regard. With that in mind, I started looking at the many homeless encampments in my neighborhood and the city in general, which can't really be called camping - squatting on the sidewalk isn't camping.
Ok, disclaimers - homelesness is a chronic problem all over this country, but especially on the west coast. Only some of the homeless are cases of mental illness or drug abuse; many homeless are the working poor evicted/priced out of housing stock by greedy landlords/real estate speculators (many of those people live in their cars). The term 'homeless' really only applies to those who stay in a town or city, not people who are on the road making temporary camp.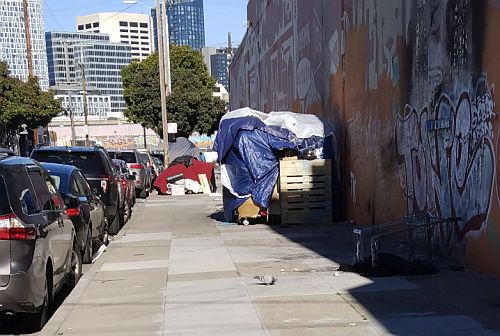 You'll find individual and group homeless tents all over the city, squatting for a few weeks or so until the person inside wears out their welcome with the residents, or gets raided by the cops, or burns themself out of the spot and leavs a smoky reminder...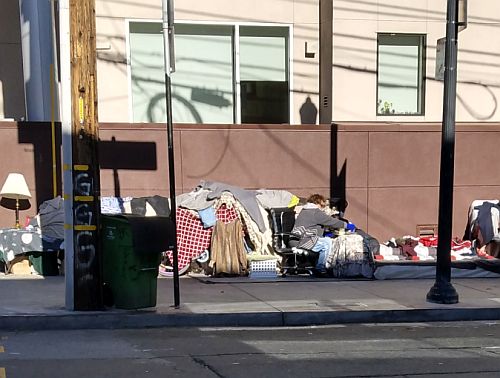 Most of these encampments are former apartment dwellers who would never be confused with a camper outside of a city...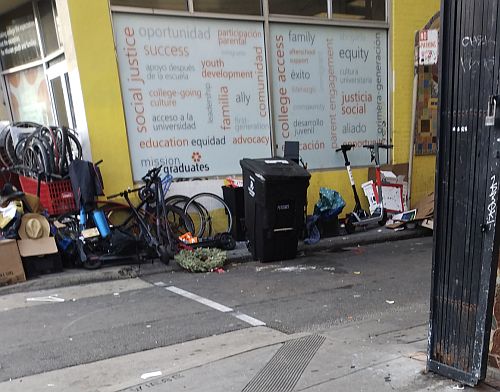 Surreptitious shot of what could be a floating bike chop shop between locations, usually found under the freeway or a secluded back alley...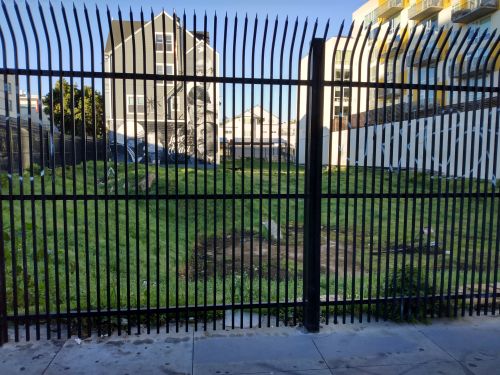 One symptom of the housing crisis - older mixed-use apartment buildings standing in the way of gentrification via new market-rate condos and amenities attractive to yuppies. A suspected 2015 arson claimed the building at 22nd and Mission with at least 1 fatality, making many non-white working families homeless...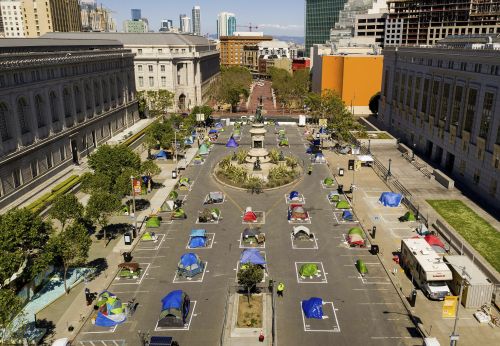 The city did make a change recently, making official secure spaces for encampments like this space near City Hall between the public library and the Asian Art Museum, supported by services, but that's a stopgap band-aid at best. The large tent camps aren't going away, and the Mayor is pushing through a plan to force some hardcore homeless into drug treatment or mental healthcare facilities, a plan I'm kinda half and half with...
Image - Noah Berger, AP.
Youtube channel for Bike Shop and Travel Vids